AIRDRIE, Alta — After being attacked by a dog in Airdrie's Sandstone Park last weekend, 62-year-old Robert McKague ended up at the Airdrie Urgent Care Centre with a concussion and eight stitches in his forehead.
McKague, a resident of the Big Springs neighbourhood in Airdrie, said he was trying out his brand new e-bike on Sunday, June 26, when he came across two Caucasian men in their mid-30s who had a white and brown dog and a red-coloured dog, as he described.
The white and brown, short and stocky dog immediately started barking at McKague as he rode his bike along the path, he said. Although McKague yelled at the dog's owner to get control over his pet when he saw the dog was charging at him, he claimed no attempts were made by the owner to recall the animal.
As McKague turned the corner, the dog lunged at him, taking McKague and his bike down.
McKague said he lost consciousness and lay on the ground bleeding while the two men and their dogs took off.
"The owner saw me and took off, they bolted," he said. "The frustrating thing is the lack of caring. These people didn't even attempt to call their dog back. Seeing me unconscious, bleeding on a pathway, there was not even an attempt at some kind of first-aid. That's frustrating."
Fortunately, two other bikers witnessed the incident and came to McKague's aid. They called for help and waited with McKague until the RCMP and ambulance arrived.
Airdrie RCMP, Airdrie Municipal Enforcement, and EMS personnel responded to a report of a dog bite on June 26 at approximately 4:43 p.m, confirmed Cpl. James McConnell, RCMP media relations officer for Southern Alberta.
McConnell said a male was treated at Airdrie Urgent Care following the incident.
Once at urgent care, McKague said he was treated for a concussion and given eight stitches around his eye. He also sustained injuries to his hands and shoulder.
McKague was originally scheduled to go back to work the following day, having taken some time off for a hernia surgery in his stomach, he explained. Instead of heading back to work this past week, he is now dealing with a new slate of injuries.
"I broke my glasses and my brand new e-bike is probably a total loss. [Those were] $700 glasses and a $3,000 e-bike," McKague said.
"The frustrating thing is that on a Sunday – I'm 62 years old – and a senior can't go out and ride a bike. That's pretty scary."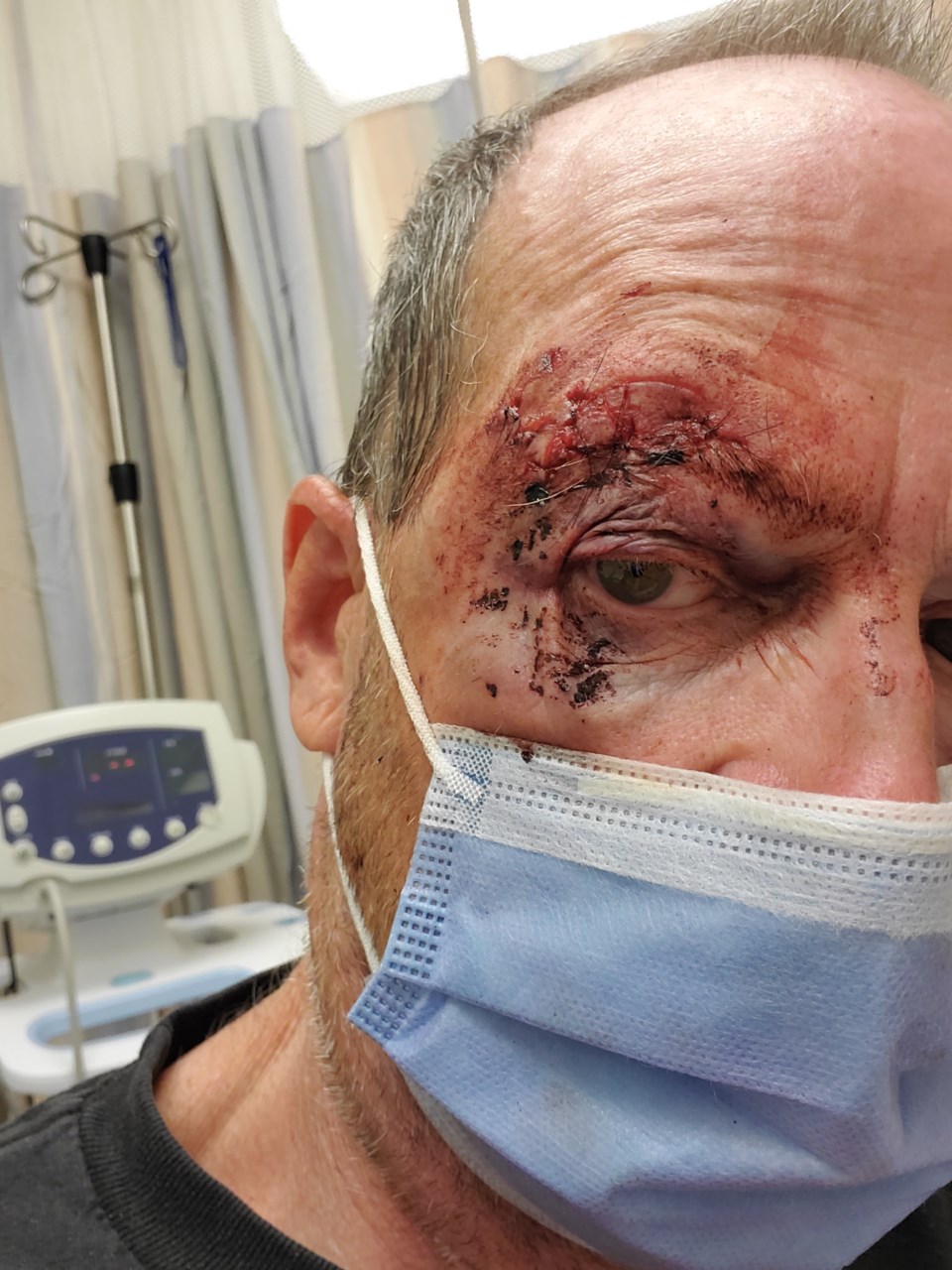 RCMP and Municipal Enforcement did not find the dog or its owner but an investigation is ongoing by municipal enforcement, claimed McConnell.
McKague added that RCMP suspected the owner of the dog, which he described as a pit bull, likely lives in the area, based on where they were walking their dogs.
"This dog should not be off a leash. Even if you're off a leash, there is an onus of due diligence to have some control over your dog," McKague said.
He added that having off-leash dog parks along a bike path is not the safest location.
Once he reported the incident to RCMP, McKague also went to the City of Airdrie's Municipal Enforcement division to file a report.
He claimed he did not feel police or municipal enforcement staff prioritized the incident and he was disappointed by the lack of compassion in their interactions. He claimed the RCMP officers who took his statement returned to urgent care as they forgot to take his name initially, as well as the two witnesses who waited with McKague until the ambulance arrived.
"These two guys saw the dog owners so they have a better description than I did," McKague said.
Anyone with information about whose dog may have attacked McKague can contact Airdrie RCMP at 403-945-7200.