This week, it's time to try something different. Let's go back in time!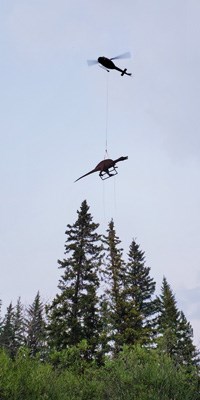 Back in Time Museum & Antiques, Youngstown
This small museum packs a big punch with collections of vintage motorcycles, Indigenous artifacts, relics from early homestead life and much more. Parking is free, well behaved leashed dogs are welcome, and you can call ahead to book a group barbeque on site. It's perfect for a family outing. The museum is open from Thursday to Monday, 10 AM to 6 PM. Admission is $10/person or $15/family.
Writing-On-Stone Provincial Park/ Áísínai'pi National Historic Site, Milk River
Writing-On-Stone is a place of historical, sacred significance. For thousands of years, it was a gathering place for the Plains Peoples. The park is a great place to respectfully learn about the Plains culture and view the largest collection of preserved rock art in North America. Camping facilities are available.
Reynolds Museum, Wetaskiwin
Planes, trains, and automobiles! The Reynolds Museum is a popular destination for locals and tourists where roving and static exhibitions celebrate humankind's machine-forward inventions. The collection includes more than 500 vintage vehicles, 130 aircraft, and thousands of pieces of industrial and agricultural equipment. Note that while the museum is open, some experiences, like the warehouse tour and open cockpit bi-plane flight, are cancelled for the 2021 season. Enjoy Reynolds Wednesday through Sunday. Tickets can be purchased online or on site.
The World's Largest Oil Lamp, Donalda
The quiet village of Donalda boasts a 42 foot tall oil lamp. The structure gives a hint to the Donalda and District Museum where you'll enjoy more than 1,000 vintage lamps that date back to the 1600s. Included in the illuminating collection are artifacts related to the history of the Métis, and to the early settlers of the village. If you happen to be an antique lamp collector or restorator, ask about their spare lamp parts for sale.
Nerissa McNaughton is a freelance writer and a contributor to Great West Media. This story was written for the Hot Summer Guide advertising feature. It is not written by and does not necessarily reflect the views of the editorial staff.