Oil production in the Edmonton area expanded rapidly, enabled Alberta to become a major oil producer and moved Canada into a self-sufficient oil producer. The public is invited to celebrate this milestone anniversary on June 18. This family fun day includes food, guest speakers and plenty of activities.
Kayla Goodwin, Executive Director, discusses the rebrand and the importance of the historical site in Alberta.
"In 2019 the Leduc No. 1 Energy Discovery Centre rebranded as the Canadian Energy Museum. Our mission is to cultivate curiosity, engagement, and a balanced understanding of the energy sector through our education and public programs, exhibits, and events. We endeavor to excite inquiring minds through the countless storytelling opportunities provided by Alberta's unique energy history, its people, places, science, challenges and innovation," says Goodwin. "With the rebranding comes new faces at the museum, new exhibitions and new opportunities. As a non-profit we are excited to continue to tell visitors about Alberta's history through the energy industry."
One of the highlights of the family event on June 18 is the premier of a new documentary about the historical impact of Leduc No. 1 that Know History from Calgary is developing. There will also be an Indigenous Flag Raising ceremony.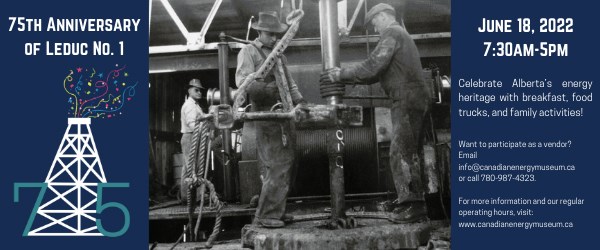 The day's itinerary is as follows:
7:30 am - 9:30 am: Lion's Club breakfast
10:00 am - 11:30 am: Morning ceremony, politician speeches and flag raising ceremony
11:00 am - 5:00 pm: Museum tours
12:00 pm - 12:30 pm: Premiere of Leduc No. 1 documentary, followed by other documentaries played on a rotating basis
12:00 pm - 5:00 pm: Vendors and food trucks
The upcoming celebration is not the only way to actively engage at the Canadian Energy Museum this summer. Kids can look forward to a variety of summer camps. Whether you choose one or several of the day camps available, each child will come away with hands-on activities that help them better understand the world around them.
Camps include experiments and building with "Getting Our Hands Dirty," learning our role in understanding and healing the earth with "Let's Look Out" and delving into the importance of balancing nature with respectful energy extraction with both "Jr. Roughnecks" and "Eco-Warriors."
Whether you are on site for a kid's camp day, for the June 18 event, or to visit the museum during summer, turn it into a mini vacation by staying at the Canadian Energy Museum Campground. Rates include water, power, toilets and hot showers.
While many think of the site as an oil and gas discovery, it is so much more. The impact of Alberta's oil reserves has shaped every aspect of our province, from a social, economic, heritage and political standpoint. Energy is our past, present and future. No matter what changes happen in the oil and gas sector, Alberta and its energy, both in coal, oil and renewables, is part of our past, and part of the way forward. This is what Leduc #1 stands for and why the Canadian Energy Museum is such an important place for locals and tourists alike. It is a site of great importance in our province and a symbol of how Alberta moves forward on the world's stage through showing just how respectful and clean energy extraction can be, when done by people who care about the planet, the resource and the province.
Learn more about the June 18 event by following along on Facebook, and learn more about the Canadian Energy Museum on their website.