SAiF is a safe place to reach out for those experiencing abuse. Services offered include counselling (family, child play, group), education and advocacy, and an elder abuse program. Also offered is a program called New Directions, which is a group educational program for parents and their children who have either experienced or witnessed domestic abuse. In addition, SAiF maintains an easy-to-find and use directory of local resources and shares content on social media to help people understand the foundations of healthy relationships and dating.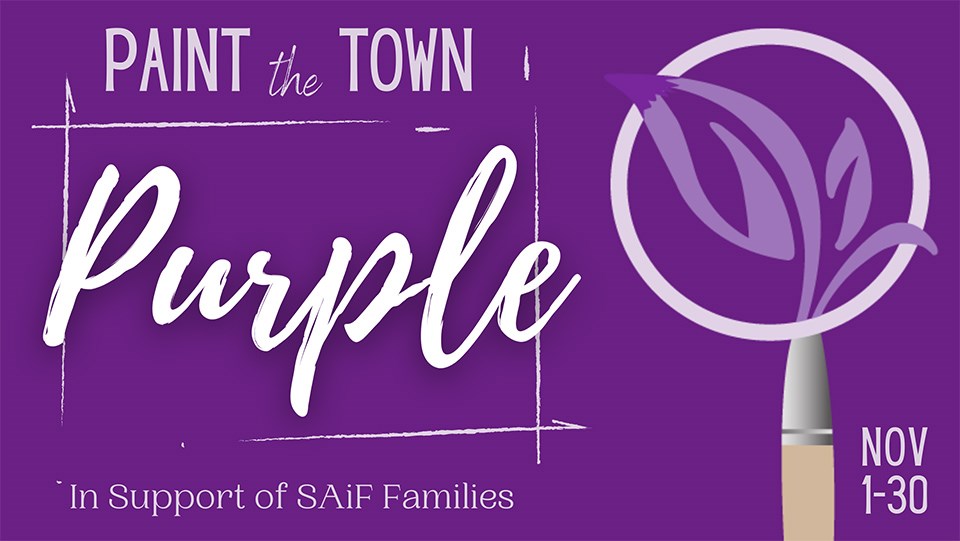 Mark Dixon, Executive Director, says, "Paint the Town Purple is a way for the SAiF society to give back, while at the same time empowering the community continue to support our local families. This fundraiser was created during the pandemic. Many local businesses had to close down or were having trouble accessing customers. So, we decided to partner with local businesses that have supported us for many years. We said, 'As you put your support behind our families, we can work together to support your customers.' This is a win-win for the entire community."

To participate as an individual in Paint the Town Purple, buy a ticket to the kickoff breakfast (which takes place on October 26 at 7:45 a.m.). Attend wearing your best purple attire, then head on over to the event page, see the local businesses involved and read how you can help them meet their fundraising pledges. Last year Paint the Town Purple raised over $37,000!
Some of the pledges from businesses include the following:
Urban Massage will donate a portion of the proceeds from every 60-minute massage in November to the cause.
Revive Whole Body Health will donate $1 for every treatment booked during the campaign period.
A1 Heating and Cooling will make a donation for every maintenance serviced booked during the campaign period.
Pledges and businesses are still being finalized, so be sure to check out the Paint the Town Purple event page frequently for updates.
To participate as a business, contact SAiF Society to discuss your pledge. The cut off to declare a pledge is October 14.
Donations can be made at anytime, by businesses and by individuals, through Canada Helps.
Why should you, or your business, get involved? Dixon says, "Paint the Town Purple was such an incredible bonding experience during the pandemic and also raised a lot of support for the society and for local businesses in town. We are pleased to offer this fundraiser for a second year as it gives everyone, including SAiF, a chance to give back and make a difference."
Last year SAiF helped 578 local families. Dixon concludes, "People continue to look for support and services outside the shelter system – services that we provide. It is obvious that demand has increased during the pandemic to unpreceded levels, but we have always helped hundreds of families every year. Nearly 50 per cent of our funding comes from donors and fundraising, which keeps these important services free for those that desperately need them."